Biography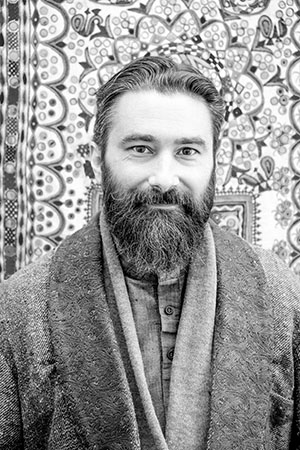 PIR ZIA INAYAT KHAN carries the Sufi lineage of his grandfather, Hazrat Inayat Khan. He received his Ph.D. in Religion from Duke University. His books include Saracen Chivalry: Counsels on Valor, Generosity, and the Mystical Quest, Mingled Waters: Sufism and the Mystical Unity of Religions, and Dream Flowers: The Collected Works of Noor Inayat Khan. Pir Zia is president of the Inayatiyya and founder of Suluk Academy. Now based in Richmond, Virginia, when not in a pandemic, he and his family live both in the United States and France.
Photo Credit: Karamat Hess
---
Pir Zia Inayat Khan Long Biography
Pir Zia, familiarly known as Sarafil Bawa, is the first son of Pir Vilayat Inayat Khan and Taj Inayat. Raised in the United States, he obtained his bachelor's degree in Persian Literature from the University of London and his doctorate in Religion from Duke University.
Pir Zia's father trained him in Sufism, and in 2000 confirmed him as his spiritual successor. Since Pir Vilayat's passing in 2004 (God keep him), Pir Zia has served as Pir-o-Murshid and President of the Inayatiyya, guiding Sufi communities around the world. To provide opportunities for focused spiritual study, Pir Zia founded the Suluk Academy, which currently offers courses in France and the United States.
The two central lodges from which Pir Zia works are Fazal Manzil in Suresnes, France, and the Astana in Richmond, Virginia, U.S.A.
Pir Zia's writings include Saracen Chivalry: Counsels on Valor, Generosity, and the Mystical Quest and Mingled Waters: Sufism and the Mystical Unity of Religions.
Pir Zia lives with his wife Pirani Sartaj and children Rasulan and Ravanbakhsh in Richmond and travels frequently.
---
Offices
Pir-o-Murshid of the Inayatiyya
President of the Inayatiyya's Seven Activities:
Sajjada-Nishin of the Dargah of Hazrat Inayat Khan, New Delhi
Chairman of the Board of the Hope Project, New Delhi
President of the Suluk Academy